Vik Appointments
Schedule appointments for any kind of business. Manage calendars, employees and services.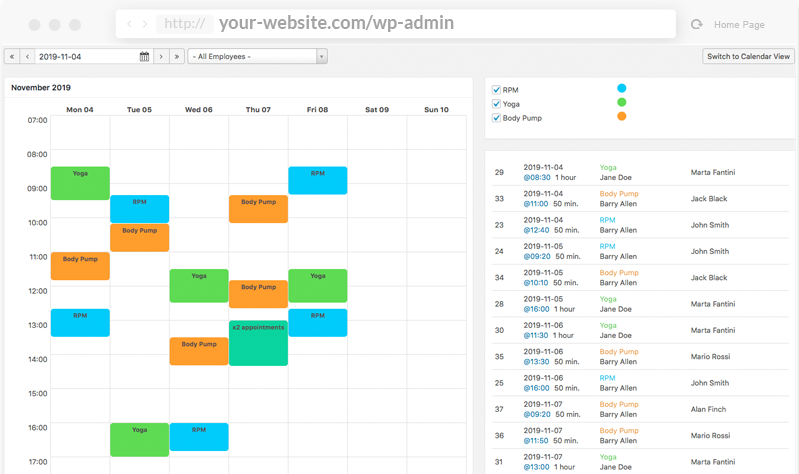 Requirements
WordPress 4+
Cost meant for purchasing one License Key with a validity of 1 year for one website. Renewals are not mandatory, this is not a subscription, but Patches and Updates can only be installed if you have an active License Key for your domain.
Please consult our Terms and Conditions for more details.
The most advanced Appointments Scheduler plugin for WordPress
VikAppointments is an experienced plugin born to build a complete appointments-scheduler system for your WordPress website. Designed to schedule and organize appointments of any kind, and for any type of service or business that needs a reliable availability calendar. Accept online reservations and schedule the appointments for each employee in a smart and efficient way.
Born in 2014 for a different CMS (Joomla), 5 years later it landed to the world of WordPress by bringing the same powerful framework.
VikAppointments could also be configured to work as a portal of employees of different cities/countries, as well as an online agenda for professionals.
Impress yourself by visiting the demo website of VikAppointments to see what it can do!
Services Management
Services are one of the most important entities of the system and they are needed to receive online appointments from your website. The services are the jobs that the employees can offer, such as Haircuts, Consultings, Medical Visits or any other thing that could be scheduled with an appointment.
Multiple appointments for the same service at the same date and time can be supported by defining the capacity for each service.
Services can have different costs and durations depending on the employee that is going to be booked. The price of a service is the base cost that customers will have to pay either online or upon arrival (depending on the payment options defined in the configuration). Free services that shall not be paid are also supported. Moreover, each service can have a custom duration, which is the time required for the completion of the service. The duration of the service is also used to calculate the next free time slots of the employee to receive and accept other appointments.
Employees Management
Employees are required to define their working days-table in order to setup an availability calendar for the services they offer. An "employee" can represent a person, an object, a room or anything else that could be scheduled to receive appointments.
The working days can be defined with weekly recurrence (e.g. "every Monday") as well as for some special days of the year (like festivities). They can be divided into different working shifts so that the employees can have one or more breaks during their working days. It is also possible to define some closing days to avoid receiving reservations.
Employees can be configured to work on different locations. Locations can have an address and the coordinates to be displayed within Google Maps. It is also possible to assign the locations to certain working days, meaning that employees can be available for booking at one location on some days, and at other locations on some other days.
A front-end management area is available for the employees upon logging into their accounts to manage their profile, services, payments, working days, locations, subscriptions and so on. All the actions that employees can perform through this area can be defined from the configuration page of the plugin.
Notifications and Synchronization
Every time a customer books an appointment, the system will send a notification to the customer, to the employee and also to the administrator(s). Notifications can be sent via E-mail, via SMS, or through an ICS Sync.
E-Mail notifications could be sent automatically with the summary of the reservation depending on its status. For example, it is possible to send the email notifications only if the status of the reservation is "Confirmed". The e-mail messages can also contain some additional attached files like a CSV and/or a ICS reminder for the reservation.
SMS notifications can also be set up to be sent for all newly confirmed appointments. The content of the SMS can be easily customized through the back-end and translated into multiple languages. Please notice that it is necessary to choose an SMS Provider company for this kind of notifications, and you may be charged for each SMS sent.
An additional ICS synchronization is available for employees and administrators to auto-sync all CONFIRMED appointments with their preferred online calendar tools, such as Apple iCal, Google Calendar, Outlook and so on. The synchronization is made through different and private URLs.
Payment Gateways
The Pro version of VikAppointments unlocks the possibility of offering various payment options to your clients. This will make your website turn into a full e-commerce powered system. The plugin comes with three payment options pre-installed: PayPal, Offline Credit Card and Cash. However, the payment framework can be extended by installing apposite payment plugins for VikAppointments to collect money through your preferred bank gateway.
In case you wanted to process the payments and collect the money by using a bank gateway different than the ones available in the plugin by default, then you can visit the "Payments" section on this website to see the list of all the extra payment gateways available for purchase. Alternative, if you are a developer or if you know a programmer, you can visit our technical documentation that explains how to create a custom payment plugin for VikAppointments and your preferred bank gateway.
Start managing your appointments,
get VikAppointments today!
Do you have any doubts?
or check if you can find your answers on our FAQ.