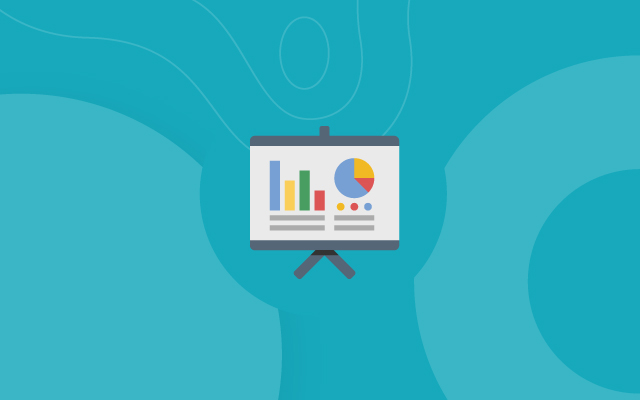 How to plan a day-by-day agenda for your accommodation with Vik Booking
The continuous coming and going of guests, the members of the staff to manage, an unexpected issue, last-minute requests and all the particularities of this profession requires lots of mental work and a good organizational attitude.
The property owners know how difficult is to manage all the dutes of a daily work, such as the coming and going of guests, the tasks of your staff members, last-minute requests, and so on. All things that need lot of organization and mental work.
With Vik Booking you can handle your daily and onward management activity.
Thanks to its PMS functionalities, Vik Booking can help you keep under control your reservations, staff tasks, requests and reminders with many dedicated tools and a very intuitive and user-friendly interface.
Let's discover these functionalities step by step and see how they can help you with your daily work.
THE DASHBOARD:
This is the first page you will see once entered on Vik Booking on your Admin side.
We can consider the Dashboard our "daily magazine".
The above section includes all the information about customers and reservations for the current day:
Guests that arrive today
With a quick overview of the guests that are arriving today, you will be ready to welcome them.

(The "Arriving Today" box of the dashboard that shows the guests arriving today)
Guests that leaves today
Check which rooms are about to vacate to better organize the check-out service with the other members of your staff.

(The "Departing Today" box of the dashboard that shows who's currently occupying your rooms)
Today's Room Occupancy
With the "Today's Room Occupancy" you can always keep under control the number of room types occupied and who is occupying the room during the current day.
Moreover, if you have loads of room types, and you need to do a quick search, you can search for customer name, room name, room number and more by typing your search term.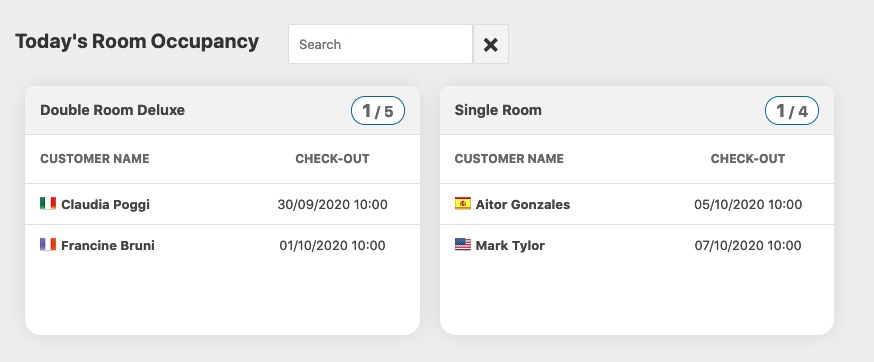 (Check who is occupying your rooms today)
The second part of the dashboard is dedicated to dive into the future occupancy and incoming reservations. You will find:
Weekly summary
A dynamic resume of your next weeks occupancy.

(An overview of your accomodation occupancy for the next weeks)
Latest reservations received
Check who's just booked a room for his next journey.

(On this table you can have a full overview of your all latest reservations)
Reservations with an upcoming check-in date
Who's about to come? Don't forget to take a look at your very next arrivals. Check if everything is fine before their arrival.

(A full overview of all the upcoming arrivals)
FORECAST:
This is the part of the Dashboard dedicated to see a different side of your Occupancy and help you with information and tips to maximize it.
The Forecast analyzes your occupancy ratio considering the number of units booked and the total number of nights of the selected period.
You can use it to analyze your statistics on occupancy for incoming or future days, including festivities and events. The Forecast will help you evaluate your sales strategy to fill in your rooms occupancy at any time, with useful insights on how to act with your prices.
This tool will be your counselor partner, and it will help you you save time and energy. You can find promotions and special prices on the Vik Booking PRO version.
These are some examples of suggested promotions based on the occupancy rate, such as Basic, Last-Minute, and Early-Bird:
(Example of a tip for a Basic Promotion)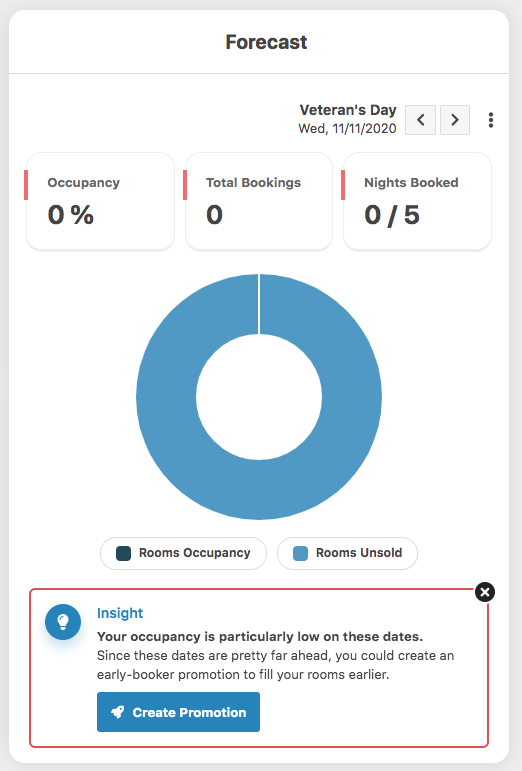 (Example of a tip for a Early Bird Promotion)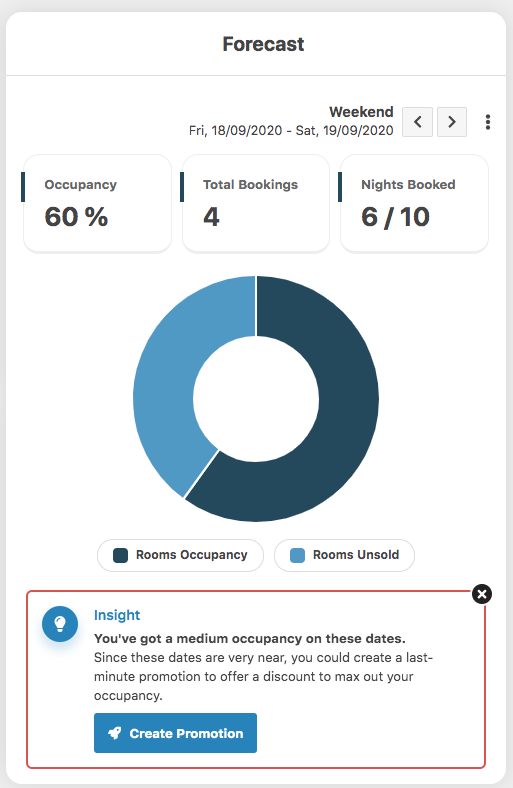 (Example of a tip for a Last Minute Promotion)
Tableaux feature for your and your staff:
This is the best tool to manage and organize yours and your staff's work. The tableaux is a real digital agenda, dynamic and customizable.
It shows days with reservation details, and it gives you lots of precious functions that you will appreciate in your day-to-day job.
For example, you can add a note that will be visible just to your Cleaning Staff, or they can add a note (such as broken or stolen items) from their smartphones about a specific reservation.
What can you do with the Tableaux feature?
See existing reservations and bookings details:
Booking ID, date of the booking, customer name, status, number of nights, the total price.
Add a custom day note:
You can use day notes to add some custom festivities or events days for a specific date in the calendar. You can also create a reminder for temporary unavailability of pools or parking services, or report anything else regarding a specific date.
Add a custom room note:
This is a useful tool for you or your staff to post any important issue regarding your Rooms. For example, you can keep a note of quotations received from customers, warnings about keys lost or cleaning requirements, or report anything else regarding a specific room or reservation.
Manage operators views in front-end:
You can control Operator permissions views of the tableaux in front-end.
You can decide for each Operator which rooms and for how long they can see the room, including reservations, notes, and reminders associated to that room.
i.e. If you want to show cleaning staff only the rooms that need to be cleaned, you can add a room note for them and restrict their view to just those rooms.
Admin view of Tableaux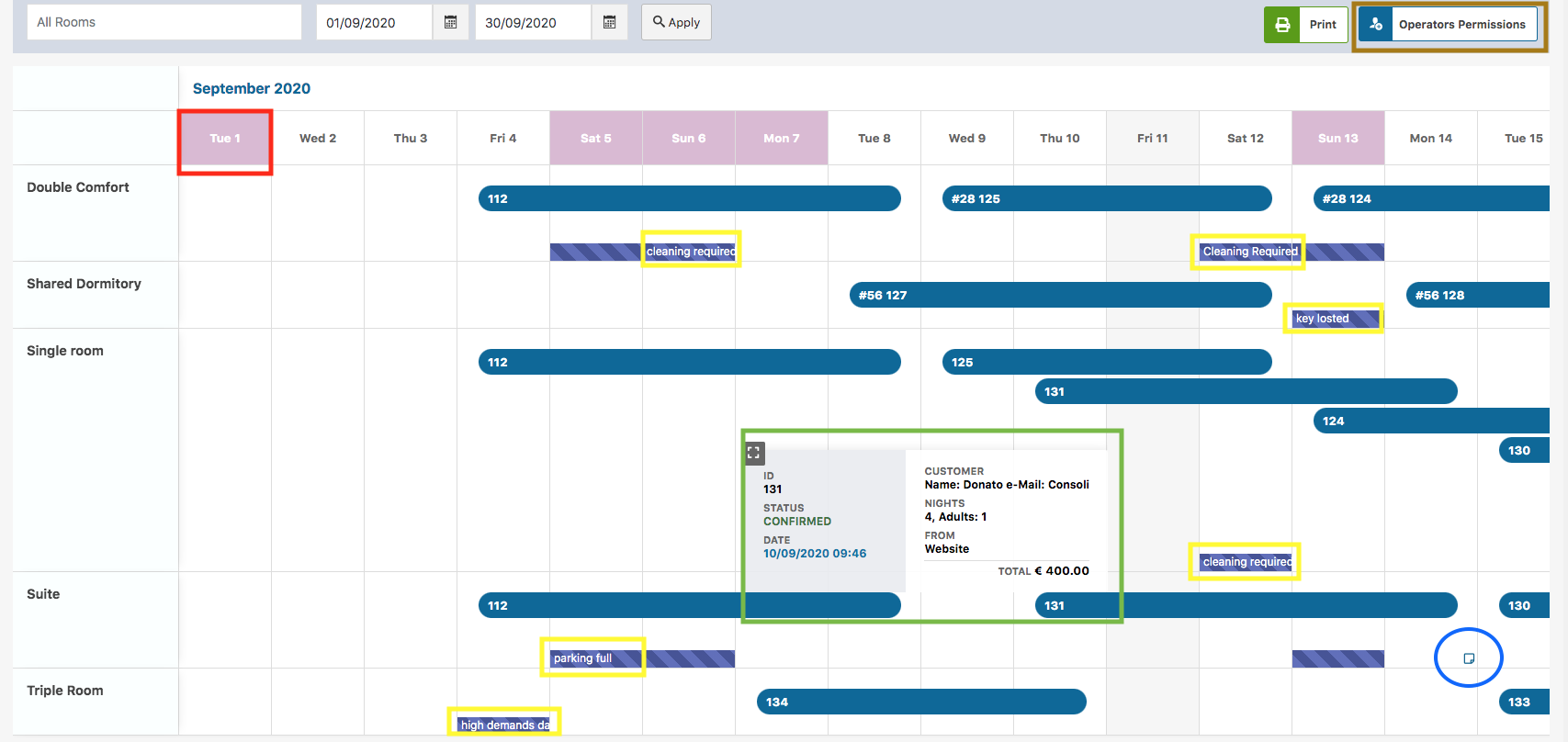 (The Tableaux function in the Admin side of Vik Booking)
Operator restricted view of Tableaux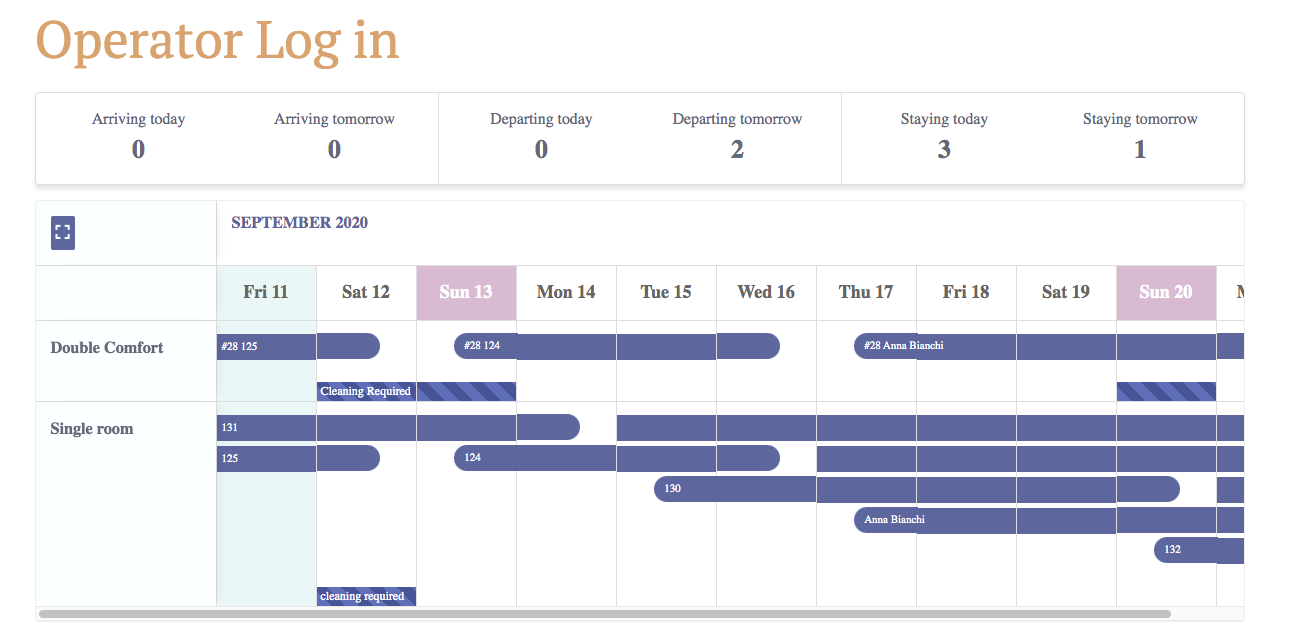 (The Tableaux function in the Operator side of Vik Booking)
Don't you have Vik Booking PRO?
Get the PRO version to start creating your promotions or special dates.
Get Vik Booking PRO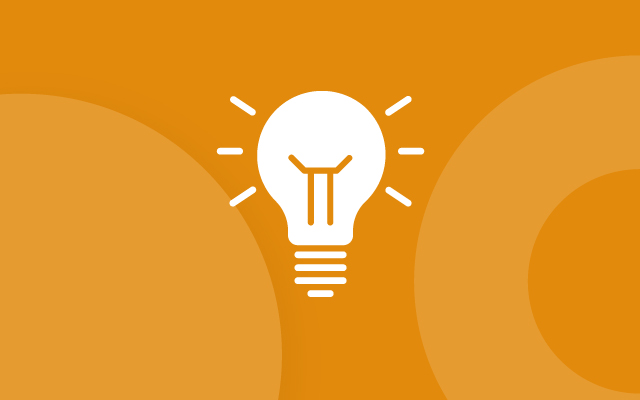 Insights, ideas and tutorials about our products for your business.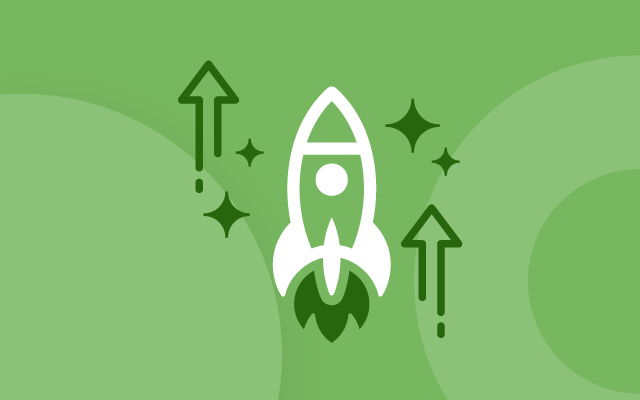 Discover the latest updates of our plugins.