Vik Booking
Powerful and certified booking system Plugin for Hotels, B&B, Villas and Apartments.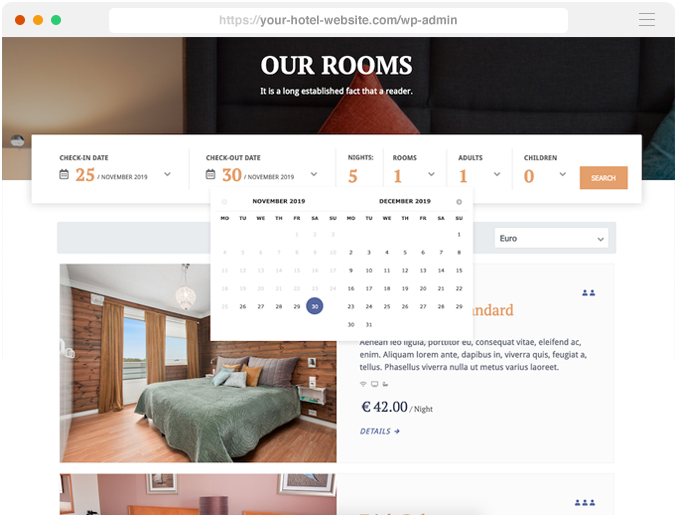 Requirements
WordPress 4+
Cost meant for purchasing one License Key with a validity of 1 year for one website. Renewals are not mandatory, this is not a subscription, but Patches and Updates can only be installed if you have an active License Key for your domain.
Those who also use the complementary plugin Vik Channel Manager will get unlimited access to updates and technical support.
Please consult our Terms and Conditions for more details.
Direct Bookings
Booking engine with no monthly fees or commissions.
Installed on your website: you collect bookings and payments.
Save money from OTA commissions.
PMS + Booking Engine
Two solutions in one single plugin.
Pricing Calendar, Extra Services, Promotions and much more.
Manage Reports, Invoicing, Receipts, Pre Check-in and Cron Jobs.
You own the software
One-time fee for a system fully integrated with your website.
Stop renting external systems that drive your customers away.
Invest on something you own: your website.
Centralized Reservations from all Booking Channels
Make your website become your only Extranet tool. Reservations coming from any channels will be saved on your WordPress Admin section, so that you can build your own database of customers and financial data.
Stop depending on third party and external systems by choosing an Internal Booking System.
Power at your hands. Manage all your reservations. Switch, add or remove rooms. Change dates, apply different rate plans or costs, add fees or extra services and much more.
Send custom messages to the customers via email or SMS, everything from your website wp-admin section.
More than 1800 accomodation owners are already saving money from OTA commissions thanks to Vik Booking
What our clients say
The most complete software and the best team
Is the most complete software for booking solution with the best support team!
SQUAD Network
Guayaquil, Ecuador
It works very well
I started to use in June 2019 and I am quite happy with that. It has worked very well.
Karjalan H.
Tolosenmäki, Finland
The absolute solution for an hotel
The absolute solution for a professional web designer that specializes in tourism & accommodation field.
Sami Computers ICT
Sennybridge, Greece
Manual Reservations, Open/Close Rooms
Use the Calendar page to quickly book a room for a customer and reduce its availability. Being able to manually register reservations is fundamental. Assign a customer to the reservation, and set a custom rate for their stay with just a couple of clicks.
Rooms can also be closed in no time. Select the dates and check the box to close the room for stopping the reservations on certain dates.
Dashboard and Availability Overview
Tools for the receptionists
Vik Booking is used and loved for its efficiency by thousands of properties every day to welcome customers, and to check them in or out. The page Dashboard helps to see the guests who are arriving, leaving and staying at the hotel.
Availability Overview
Keep track of the past, present and future reservations from the page Availability Overview. Drag and Drop reservations from one room to another to allocate your customers in the best way.
Thanks to Rooms Numbering feature, you can see exactly in which rooms your guests will be staying, and eventually move them to a different room unit.
Rooms and Room-Types Management with Sub-Units
Set up your rooms as you would do with an OTA. Define the minimum and maximum number of Adults, Children and Total Guests for each room type.
Configure the number of units available and optionally assign a number/name to each sub-unit thanks to the function Distinctive Features. This way you will be able to assign the reservations to specific room units to know exactly in which room your guests will be staying.
Configure Optional and Mandatory Services. Assign to your rooms specific optional services that guests can order during the booking process, like breakfast or dinner. Alternatively, you can define specific mandatory Fees or Taxes, like Cleaning Fees or Tourist Taxes to be paid at the time of booking.
Amenities and Characteristics can be specified for each room type, together with an HTML description and Photo Gallery of the room.
Rate Plans and Rooms Rates for any Pricing Model
The Pricing Framework of Vik Booking was developed to support any kind of pricing model. Whether you use rates per nights of stay (LOS), rates by occupancy or per-day rates, with Vik Booking you will be able to set up any possible pricing rule.
We follow the OpenTravel Alliance Standards. With Vik Booking there is nothing you cannot setup for your rates. The pricing framework is stable and certified.
Set up one or more Rate Plans to define different cancellation policies and booking terms.
Calendar Pricing - Different Pricing Models
Per Day Pricing this is the most common pricing model. Every day of the year can have its own cost. For example, you can have different rates on weekdays than weekend, or in days of high season rather than low season.
Per Day by Length of Stay this pricing model is often adopted by Apartments, Villas and B&Bs. Rates can be defined depending on the number of nights of stay. For example, 1 night EUR 80, 2 nights EUR 150, and so on.
Per Occupancy Pricing those who use different rates depending on the number of adults will find this function fundamental. Adjust the costs of the rooms depending on the number of adults that occupy it. A classic example for this pricing model is the cost for the single usage of a double room.
Children can be charged depending on their age. The system allows to define costs with absolute or percentage value, so that it's also possible, for example, to make a child pay the 100% of the room cost if older than a certain age. In this case, after a specific age, children can be considered as adults. The selection of the number of children could also be disabled.
Booking Restrictions this is a must-to-have function for the at least the 50% of the properties worldwide. Thanks to the Restrictions in fact, you can define your booking rules for certain dates/months of the year. For example, in high season you can limit the Minimum Length of Stay (Min LOS) to 2 nights. Otherwise, you could set up a Maximum Length of Stay rule (Max LOS) or force the arrival and departure day to something like Friday/Monday.
CTA/CTD Restrictions can also be used to close certain days to arrival and/or departure. That's what the CTA and CTD rules are meant for. An experienced hotel manager knows for sure what these restrictions should be used for.
Compliant with the OTA Standards. The Restrictions framework is another thing you are not going to find in many other Plugins.
Guide your visitors during the selection of the dates for check-in and check-out. With some Restrictions in place, the system will automatically exclude certain dates depending on the minimum and maximum stay, and eventually on the days closed/forced to arrival/departure.
Suggest the Closest Booking Solutions in case of no availability for the dates or party requested. The system can suggest to book on some other dates when there is still availability, or it can suggest a different booking solutions to allocate all the guests into the available rooms.
Custom Payment Gateways, PMS Reports and Guests Registration
Let the customers pay their reservations online via credit card, and collect the payment through your preferred payment gateway. We have developed over 60 different payment gateways for various banks of the world. The framework of Vik Booking can be extended to support any kind of bank integration. The Pro version of the plugin ships with an integration for PayPal, Offline Credit Card and Bank Transfer.
By using a Payment Gateway to collect either a deposit or the full reservation amount, the system will instantly and automatically Confirm the reservation, by reducing the availability for the rooms and dates booked.
Vik Booking never stops to surprise! In fact, beside being a perfect Booking Engine, it also provides PMS functionalities! The abbreviation PMS stands for Property Management System. This type of software in the Hotel industry is mainly used for financial, commercial and management operations.
The PMS Reports framework of Vik Booking can be extended, but it provides many different types of reports by default: Revenue, Top Countries, Options/Extra Services, Tourist Taxes and some country-specific reports for exporting data for the Authorities.
Another fabulous function is the Guests Registration. Check your customers in by generating a PDF document, and by letting the customer sign it through a Signature Pad
Reservations can also be marked as No Show in case the customer did not show up, and you can also check-out the customers to inform all the other receptionists.
Scheduled Email/SMS Reminders and Invoices Generator
These incredibly useful features of Vik Booking are some of the functions that make it unique. Thanks to the Cron Jobs Scheduling function, you can automatize some functions such as to send a reminder via email to all customers that will be checking in the day after. The Cron Jobs provide many different parameters to let you schedule reminders to be sent before the check-in or after the check-out. There is also another type of Reminder for the Remaining Balance that should be paid before the arrival. You can automatize pretty much anything!
Inviting your customers to leave a review for your property after their stay only takes a Cron Job to be scheduled.
This powerful framework will also let you generate and send the Invoices via email to your customers. You can schedule the Cron Job to automatically generate an invoice before the check-in or after the check-out. This will save you a lot of time.
---
Some of the main differences between the Vik Booking versions
PRO
140 €
No commissions or monthly fees
Custom Rate Plans

Rooms Management and Sub-Units

Availability Calendars and Occupancy for each room and sub-unit

Multi-Language compatible

Statistics Tracking and Conversion Rates

Add Options and Extras for each room

Restrictions for certain days/months and LOS rule

Special and Seasonal Prices

Customers, invoices management and Coupon codes

Custom fields for the booking confirmation

PMS functionalities

Payments System (compatible with over 60 payments gateways)

Graphs, Revenue Reports and Statistics

Channel Manager compatible
BASIC
FREE
Unlimited trial version
Custom Rate Plans

Rooms Management and Sub-Units

Availability Calendars and Occupancy for each room and sub-unit

Multi-Language compatible

Statistics Tracking and Conversion Rates

Add Options and Extras for each room

Restrictions for certain days/months and LOS rule

Special and Seasonal Prices

Customers, invoices management and Coupon codes

Custom fields for the booking confirmation

PMS functionalities

Payments System (compatible with over 60 payments gateways)

Graphs, Revenue Reports and Statistics

Channel Manager compatible
This is what our customers think about us
Excellent Support. The best booking system for WP
We've been using this system for many months now, having spent some time looking at various solutions, VikBooking was clearly the most comprehensive one out there.
The support offered is swift and helpful. The pro version may see a higher cost but it's well worth it given the amount of features and options available, as well as being able to take advantage of the support available. Thanks
Bee Smart Design
Web Agency
By far the most comprehensive solution
Unlike other WP booking plugins that clumsily integrate with WordPress, VikBooking offers a robust package with unparalleled customization, built by skilled and responsive developers.
It is by far the most comprehensive WordPress booking solution. The flexibility is second to none and any hotel owner would expect to have the features VikBooking offers in their booking system!
Start receiving direct bookings
get Vik Booking today!
Do you have any doubts?
or check if you can find your answers on our FAQ.
Is your property listed on some OTAs?
Centralize and synchronize your bookings in real-time!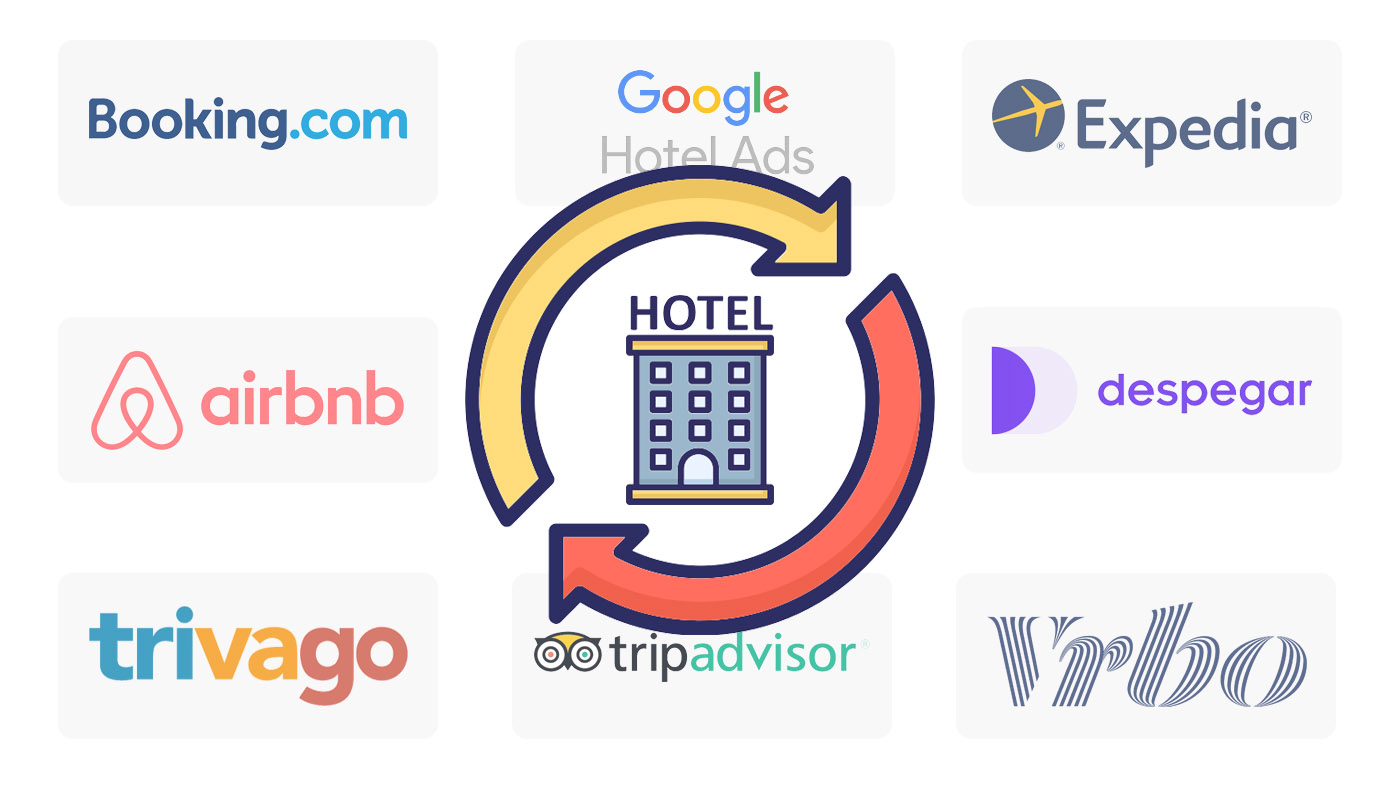 Vik Channel Manager, the very first native Hotel Channel Manager plugin for WordPress
Vik Channel Manager is a complementary (not included in Vik Booking) service that can interface your own Hotel website with online booking channels (Expedia, Booking.com, Instant Booking by Tripadvisor etc) and external meta search services (TripConnect, Trivago Meta Search).
Vik Channel Manager allows the communication with the Booking Engine for your website (Vik Booking) as well as the synchronization of Hotel rooms availability, related services and rates.