Vik Channel Manager
Connect and sync your own website with the most popular OTAs of the world.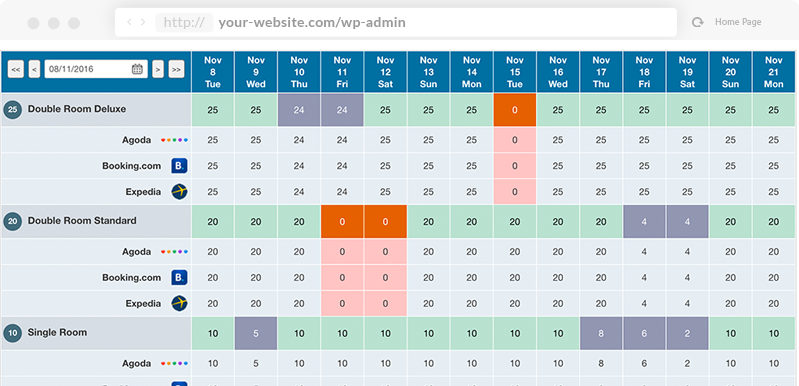 Requirements
WordPress 4+
Price is one-time payment with no domain restrictions and no needed License Keys. This is a downloadable product that contains the installer zip file for the WordPress Plugin. An active e4jConnect Subscription is required to connect the desired channels on one website. Vik Booking Pro must be installed and configured on the same website.
Please visit e4jConnect.com for further details.
Some of the channels available with Vik Channel Manager:






The first and only native Channel Manager for WordPress
Vik Channel Manager is a complementary Plugin of Vik Booking. Certified and PCI-DSS Compliant. Installed on your own WordPress website.
Beside having an internal Booking Engine, you can also have a Channel Manager that runs internally on your server. A modern technology that revolutionizes the Hotels Industry. Freedom and Power at your hands.
Real-time Sync for Reservations, Availability and Rates
Thanks to Vik Channel Manager, you can interface your own website with online booking channels like Expedia, Booking.com, TripAdvisor... and external meta search services such as TripConnect and Trivago. The plugin works together with Vik Booking on the same website, and it performs 3 main tasks:
Synchronize the Availability every time you will receive or make a new booking, a modification, a confirmation or a cancellation of a reservation, the availability will be automatically synced across all channels connected, including your own website.
Centralize the Management Tools if you need to change rates for your rooms, or set up some restrictions, you can do it directly from the channel manager without needing to log in on each booking channel to make the modifications.
Unify the Extranet Accounts your own website will become your only Extranet Account. All data and information will be available in your wp-admin section. Forget the accounts of each channel and manage everything from your own website.
Reduce the management costs by letting the Channel Manager automatize everything. Say goodbye to overbooking.
Why is Vik Channel Manager so useful?
If your rooms can be booked from your website, but also from other booking channels like Booking.com and Expedia, then the answer is simple: manual updates of the availability could lead to errors, and the synchronization could never be made in real-time if it was a human that had to do it. Let the Channel Manager do it for you.
Since the 90% of the reservations of any accommodations come from online booking channels, having everything centralized onto your own website is the best thing you can ask for. It just simplifies the whole flow of the rooms reservations.
With Vik Booking and Vik Channel Manager you can have the opportunity of using a full hotel software suite developed by the same company. Bridges and connections between different software do not provide the same result. On top of all, you can have everything installed on your own website, so you actually own the software, you do not "rent" a Booking Engine hosted esternally.
Requirements to get started
This is an internal and independent solution, but luckily it has no specific requirements, if not the ones listed below:
A regular Server Hosting Plan where you can install WordPress, which must be fully supported.
A working WordPress Installation where you can install and configure the Plugins.
Vik Booking Pro should be installed on your WordPress website and configured with rooms and rates.
Vik Channel Manager should be installed on the same website next to Vik Booking.
The e4jConnect API Key is required to activate, configure and connect the desired channels.
The only recurring cost is the one for keeping the e4jConnect API Key active and valid. This will also give you a lifetime License Key for Vik Booking and Vik Channel Manager, so there are no additional or recurring costs for the Plugins, and the updates are always FREE.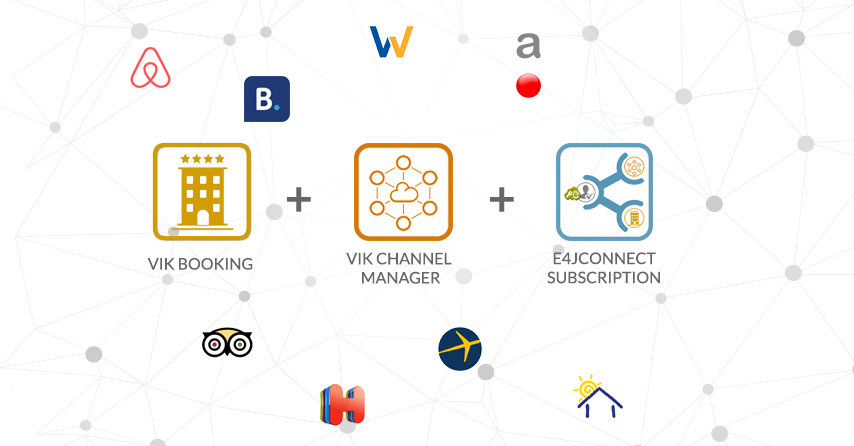 Once the plugin Vik Booking Pro is installed and configured on your website, you can install the complementary plugin Vik Channel Manager, which will show you a simple configuration interface for each channel/service you subscribed for at e4jConnect.com. You will be asked to create the relations between the rooms of your website and the rooms of the channels in order to get started.
An active e4jConnect API Key is necessary to configure in Vik Channel Manager the channels you ordered. You can get your API Key by making a subscription at e4jConnect.com.
List of available Channels and Services