Vik Channel Manager
Connect your own website to the most popular OTAs with a true Channel Manager.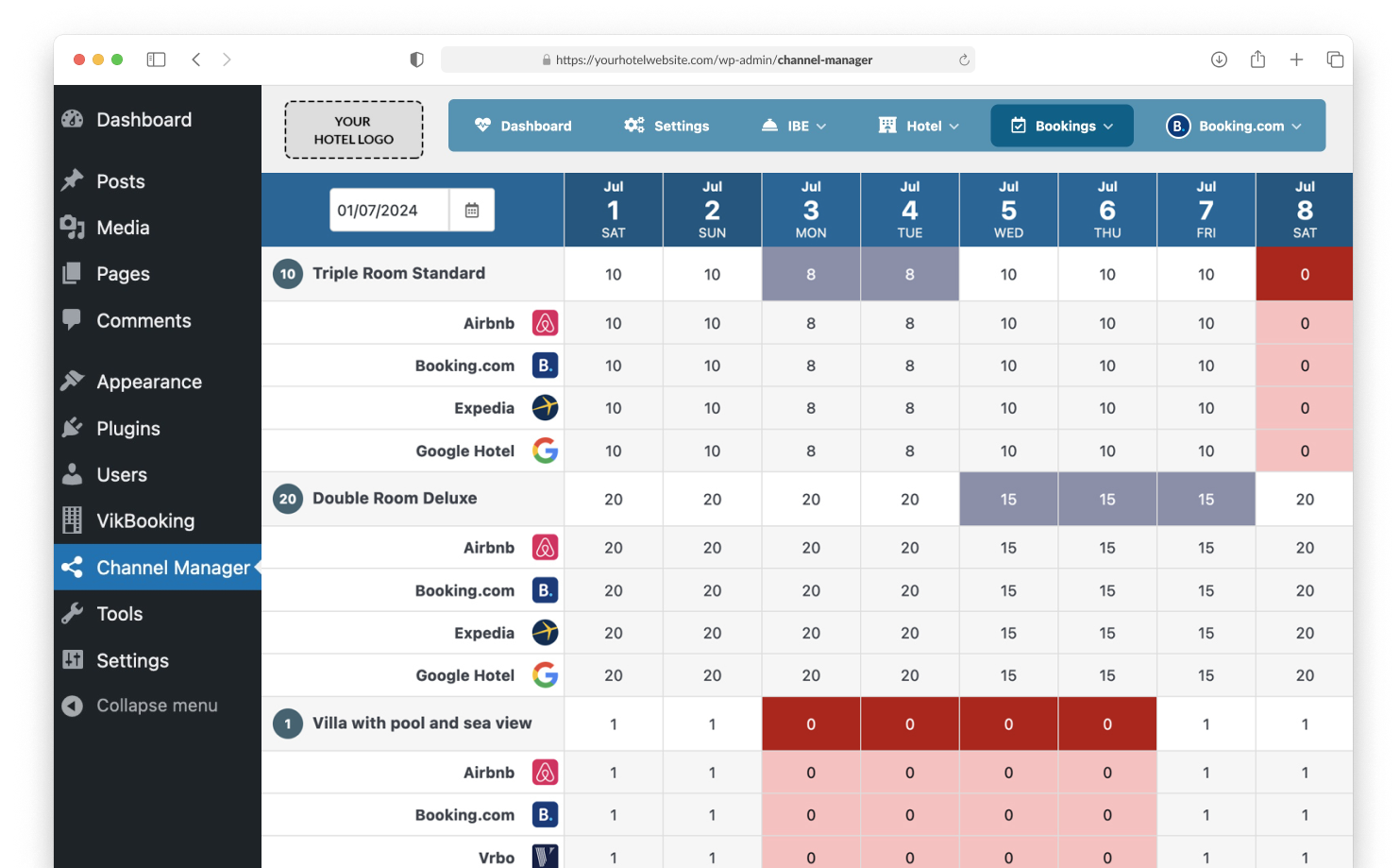 Requirements
WordPress 4+
Vik Booking
Price is one-time payment with no domain restrictions and no needed License Keys. This is a downloadable product that contains the installer zip file for the WordPress Plugin. An active e4jConnect Subscription is required to connect the desired channels on one website. Vik Booking Pro must be installed and configured on the same website.
Please visit e4jConnect.com for further details.
Some of the channels available with Vik Channel Manager:






The first and only native Channel Manager for WordPress
Vik Channel Manager is a complementary Plugin of Vik Booking. It's certified and fully PCI-DSS Compliant.

1
.

Automatize everything

Reduce the management costs by letting the Channel Manager automatize everything. Say goodbye to overbooking.

Automatically increase or lower your rates depending on the availability.

2
.

Installed on your website

Use the power of WordPress to combine Booking Engine, PMS and Channel Manager on your own website.

Beware of false Channel Manager software by adopting a reliable and certified solution for your business.

3
.

Focus on Your Business

The Channel Manager will save you time, money and headaches by keeping the reservations and the availability synced across all channels.

Simplify the whole flow and focus on other aspects of your company.
Real-time sync for Reservations, Availability, Rates and more APIs
Use your website to manage all channels
The Booking Engine plugin Vik Booking will handle all of your direct reservations meanwhile thanks to Vik Channel Manager, you can now interface your own WordPress website with online booking channels such as Booking.com, Expedia, AirBnB, TripAdvisor and more.
A real Channel Manager supports API connections
Only certified providers listed as software partners by OTAs can offer a true Channel Manager service. Vik Channel Manager is the only native plugin currently available for WordPress websites. Beware of fake and unreliable calendar synchronizations offered by other plugins!

e4jConnect is the winner of the "Best Innovation" Connectivity Partner Award 2020 of Booking.com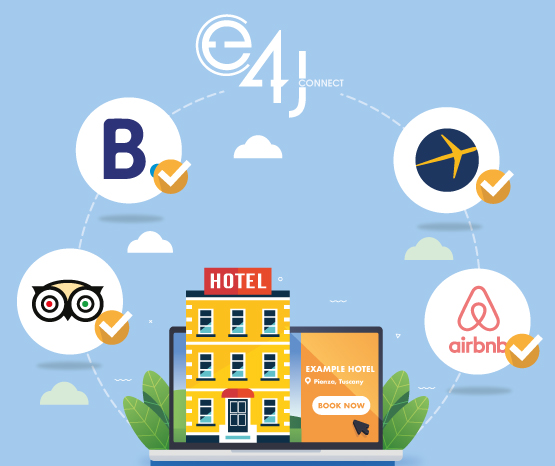 This is all you need:
* an active e4jConnect subscription is required to connect the desired channels to one WordPress website.

STEP 1:

Vik Booking
Our booking engine plugin must be installed and configured on your website. Create your rooms, rate plans and prices.

STEP 2:

Vik Channel Manager
Install our Channel Manager plugin which interfaces your own website with various booking channels.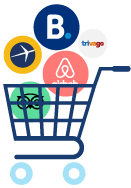 STEP 3:

e4jConnect Subscription
Choose the channels you wish to connect with and get the "API key" to enable them in the Channel Manager plugin*.
The purchase of the two plugins VikBooking and Vik Channel Manager is a one-time fee for one website with unlimited access to free updates and support. The only recurring cost is the e4jConnect subscription, necessary to keep the connection active with the various channels.
Costs change depending on the number of room units of your property, on the number and type of channels you wish to connect, as well as on the duration of the subscription, where the yearly plans are, proportionally, the most convenient ones.
Visit our dedicated website at
https://e4jconnect.com
for more details. You can simulate the final costs per year by adding to the cart the desired channels.
The main advantages of Vik Channel Manager
Booking Engine, PMS and Channel Manager
The Channel Manager works together with the Vik Booking plugin once installed on the same website.
This is a revolutionary solution for any kind of accommodation business, fully integrated with your own website.
Manage all aspects of channel bookings
Avoid overbooking and manage your rates thanks to real-time updates. All bookings downloaded from the OTAs will include all the available details, such as the guests Credit Card, billing information, special requests and reviews. You can also manage contents, photos, promotions and much more for each channel through real API connections.
Click here for all available APIs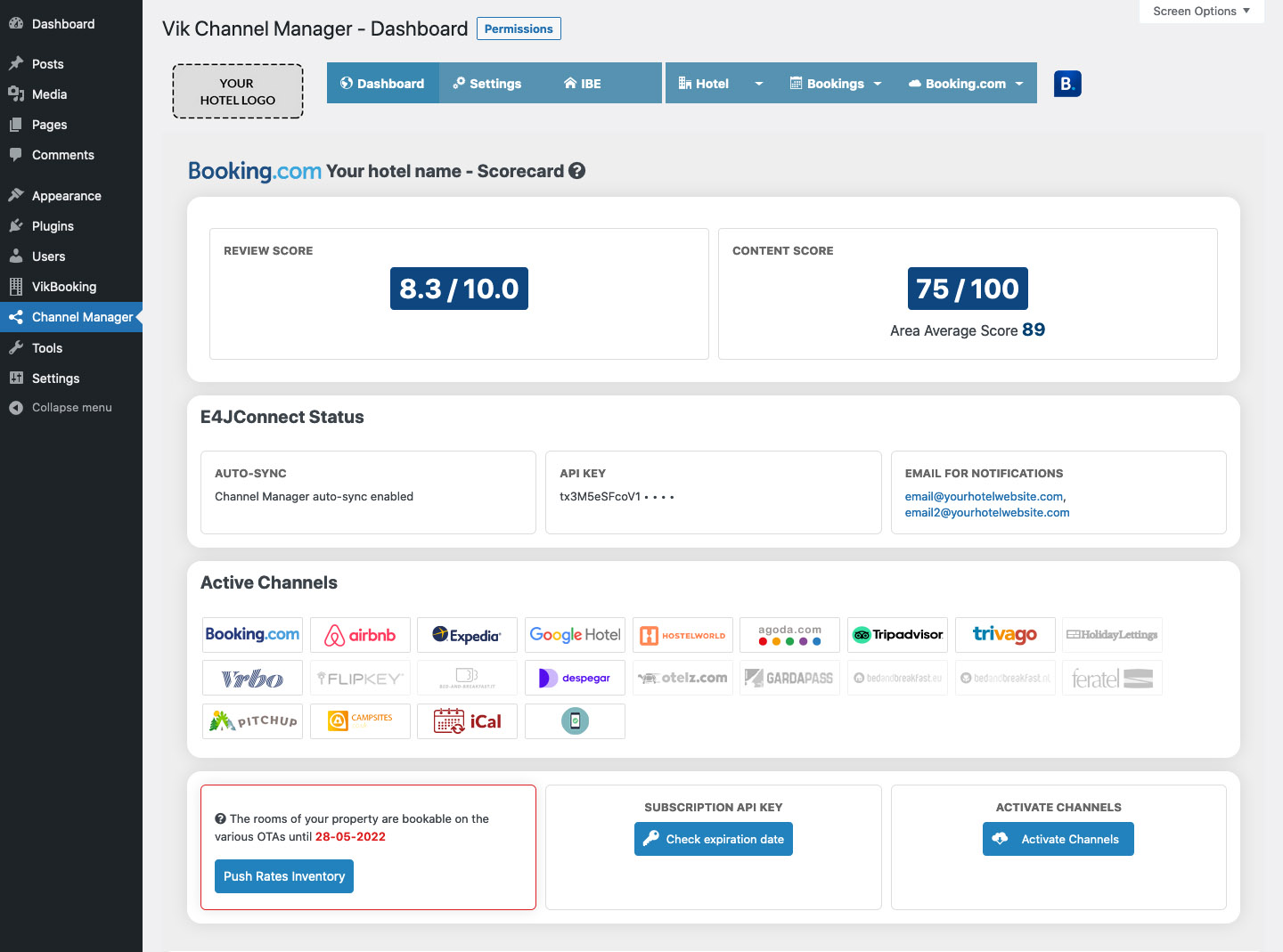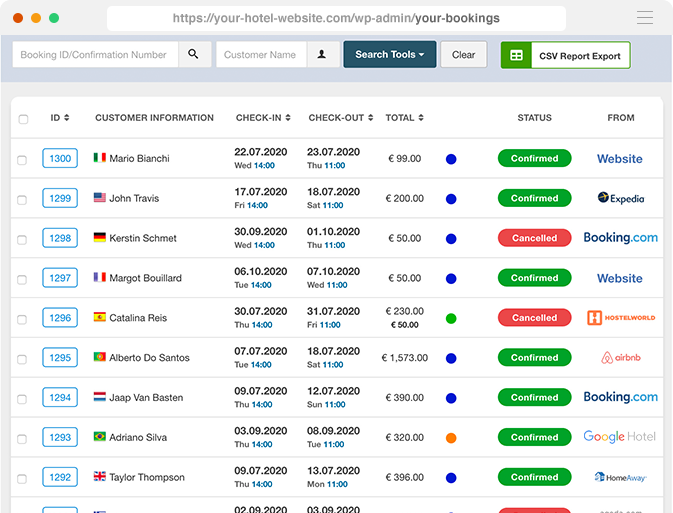 Synchronize your Rooms Availability
For every new booking received or created manually, every booking modification, cancellation or confirmation, the availability will be automatically and instantly synced across all channels connected, including your own website.
No external software or redirections
Any existing Channel Manager software is hosted externally on the provider's website, except for Vik Channel Manager! Stop sharing your data with third parties that will drive your customers away from your website. Start collecting the information from your guests on your own website and database.
A cheaper world-class Channel Manager
for your WordPress website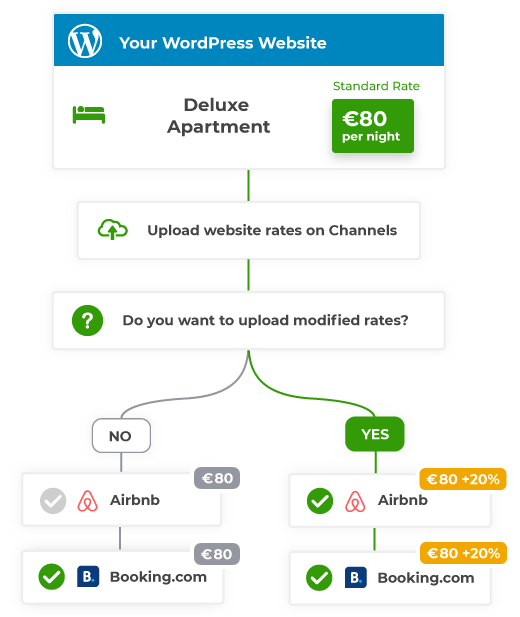 Centralize your point of sales
If your property is listed on some booking channels like Booking.com or Expedia, then adopting a Channel Mananger is fundamental for your business, because your website will become another point of sale for your direct reservations.
Synchronize Rates, Restrictions and Promotions
Use your WordPress website to manage all channels, and stop logging into your Extranet accounts to change the rates for some dates. Take advantage of your website and promote your best rates compared to the OTAs.
Handle everything with just one tool
"I choose this software because contrary to others, it syncs all bookings (OTAs included) on the database of my website. Now I manage everything from my website, without sharing my profits with external portals."
Use your Guest Reviews to increase the trust
The feedback of your guests is important to expand the demand. Let your customers leave a review directly on your website for their reservations, and keep all your OTA reviews up to date, like those of Booking.com.
Direct messaging through an internal Chat for your guests
Let your guests chat with your directly from their reservation details page on your website. Offer your guests a top-notch service.
Manage your properties with the e4jConnect App
Available for any smartphone or tablet device
Manage your bookings and availability, monitor and update your room rates, download your guest reviews, access the Tableaux and much more with any Android or iOS device.
Multiple accounts with different permissions
Let every member of your staff benefit of the e4jConnect Mobile App by granting different permissions to various accounts (User Roles) to access only certain pages or to perform just certain actions.
Real-time Push notifications and live updates
The Push notifications will keep you posted of all your new reservations. Moreover, if you are not in front of a computer and you need to change the rates of your rooms or to close some, you can just do it with your smartphone!
Premier Partner of Booking.com since 2018






Why e4jConnect and Vik Channel Manager?
e4jConnect is the name of our full solution. This is how we are listed on the various OTAs (like Booking.com or Expedia) as a certified and premier software partner (Channel Manager Provider).
Vik Booking and Vik Channel Manager are the two plugins you need to install on your own WordPress website to start using our service.
Manage any information on Booking.com through your WordPress website
You can manage pretty much anything of your Booking.com Account(s) directly from your Channel Manager.
This is a list of some of the main benefits you get thanks to our Premier partnership with Booking.com.
Real-time synchronization
Automated synchronization of the availability for new bookings, modifications and cancellations.
Upload custom rates
Upload different rates from your website onto the channels with one click.
Guests and Credit Card details
Any possible booking information will be imported into your website.
PCI compliant with credit cards.
Manage your promotions
Set-up promotional prices and custom offers for Early Bird/Last Minute bookings or any other deal.
Manage all your contents
Upload photos and manage your Property profile on Booking.com through website.
Reporting tools
Report a guest misconduct, an invalid credit card, a no-show or a change of stay dates to Booking.com
Guest reviews
Manage your property reviews downloaded in real-time and answer directly to your guests.
Check and improve your score
Keep your score-card under control, and check the opportunities to improve your profile ranking.
Guest Messaging
Check the messages sent by your guests through Booking.com, and reply to them directly from your website.
Requirements to get started
1.

Vik Booking Pro

This Booking Engine + PMS plugin should be installed on your WordPress website and configured with some rooms and rates. It's designed to work with Vik Channel Manager.


2.

Vik Channel Manager

This is the "twin brother/plugin", and it should be installed on the same website next to Vik Booking. It will provide all the functions to set up the connections with the various channels.

3.

e4jConnect subscription

An e4jConnect API Key is required to activate, configure and connect the desired channels.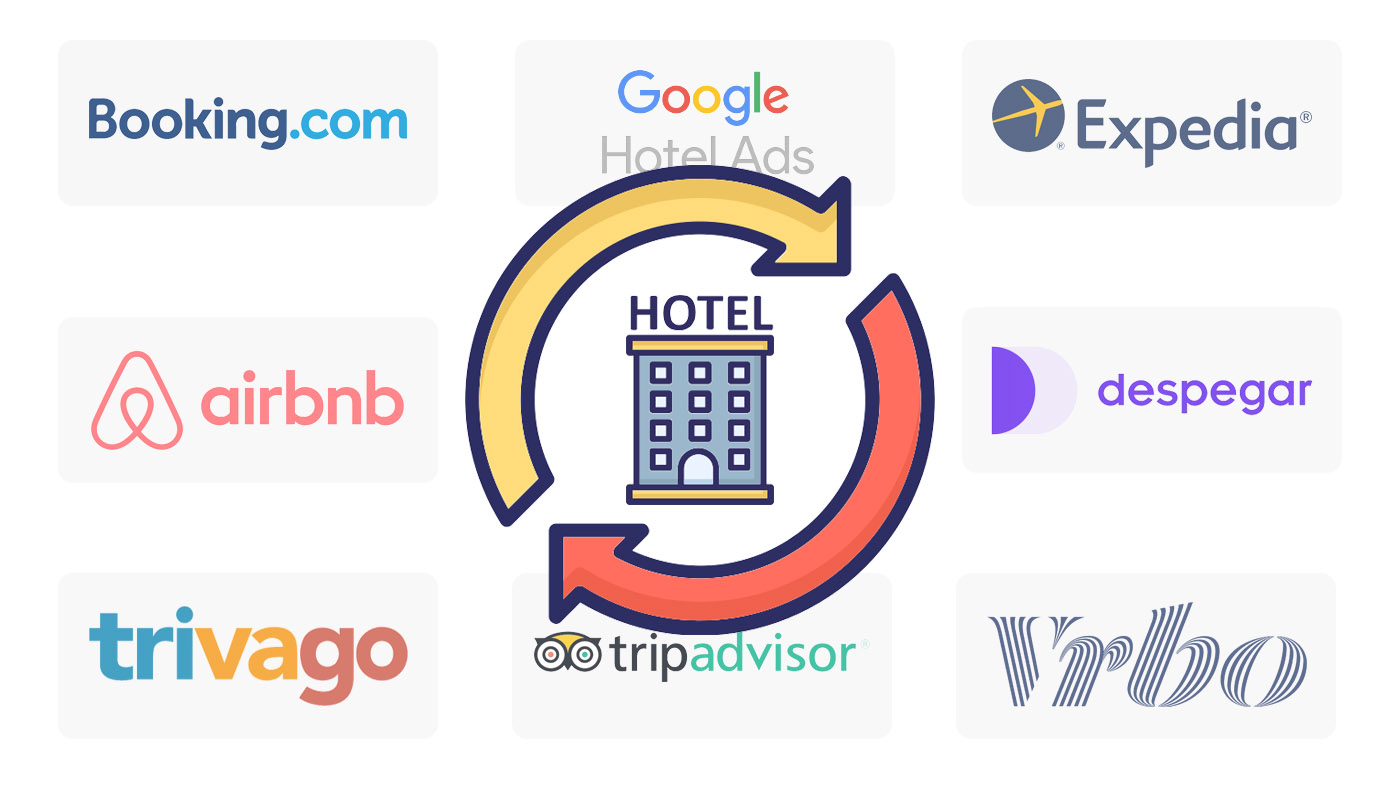 The only recurring cost with our solution is the one for keeping the e4jConnect API Key active for the desired channels.
The purchase of the two necessary plugins Vik Booking and Vik Channel Manager is a one-time fee with unlimited access to free updates and support.

Winner of the "Best Innovation" award 2020.
It is assigned to the Channel Manager provider who has implemented the highest number of new features in the shortest time and with the greatest score.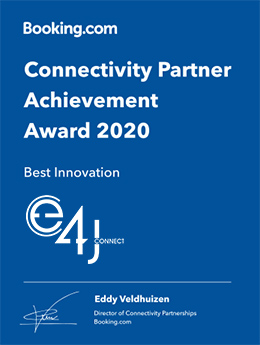 We focus on the power of your WordPress website
It takes years of work and 6000+ loyal clients to become a Channel Manager Provider listed among the world's top systems.
We have chosen to deliver our unique solution as native plugin for WordPress to give you the opportunity to power up your existing website.
What our clients say
A very good booking system together with a very useful channel manager
I purchased it because I needed to integrate my website with all the channels.
It made easier for us planning the day thanks to the dashboard and thanks to the overview occupation of the month. We can see which room had to be done first, depending on how late the guests arrived.
With all these tools,
— Frank, Owner of B&B Heart of Leiden
I've reduce my time of work!
Thanks to the Rooms Categorization and the Channel Manager I've reduce the time of work. The plugin is very intuitive in almost all of it. I love the teamwork!
— Miguel, Owner of Bonitto Inn
Such a good Channel Manager and Good Support
I have my property connected with Booking.com, Expedia and Agoda.
Finally a channel manager that synchs perfectly in real-time with all these channels and this great!
— Bryan, Owner of Lodestar Hotel
Why is Vik Channel Manager different from other plugins or software?
We offer a world-class service based on real-time API or iCal connections through dedicated cloud servers.
Don't rely on manual synchronizations of calendars.
Save time and help your property business grow safely
Manage your channel rates, promotions and availability with Vik Channel Manager.

Your availability is automatically synced across all platforms, and any new reservation is downloaded in real-time.

Guests can complete their bookings directly on your website. No redirections to external websites or servers.

Our dedicated e4jConnect cloud servers are eligible to communicate with OTAs, individual websites or non-certified plugins are not.

You can rely onto a high level of servers that meet all the necessary requirements and have all certifications needed.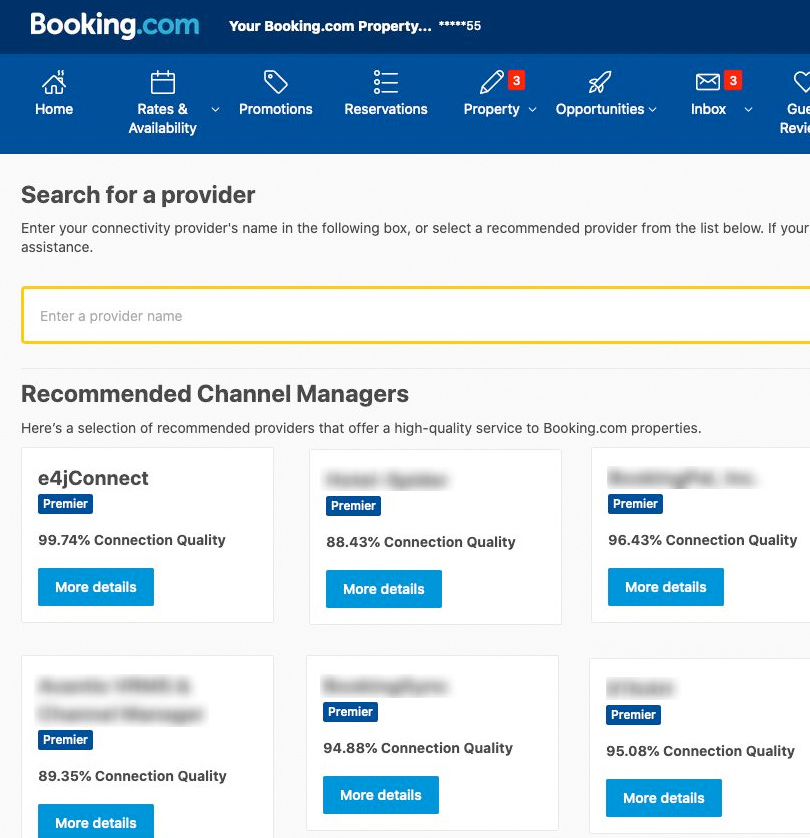 Some of the channels available:
Frequently Asked Questions
No, our booking engine plugin must be installed and configured on your website.
Once Vik Booking PRO is installed on your website, you can install the complementary plugin Vik Channel Manager, which will show you a simple configuration interface for each channel/service you subscribed for at e4jConnect.com. You will be asked to create the relations between the rooms of your website and the rooms of the channels in order to get started.
No, this is not possible. Our plugins Vik Booking (the Booking Engine + PMS) and Vik Channel Manager were designed and certified to work together. They simply wouldn't support any third party Booking Engine or Channel Manager plugin for WordPress. This means that Vik Booking would not work with a different Channel Manager than ours, and that Vik Channel Manager could not be used with another WordPress plugin.
Yes, an active e4jConnect API Key is necessary to configure in Vik Channel Manager the channels you ordered. You can get your API Key by making a subscription at e4jConnect.com.
The plugins Vik Booking PRO e Vik Channel Manager are una-tantum costs, the only recurring cost is the one for keeping the e4jConnect API Key active and valid.
Yes, the e4jConnect subscription will give an unlimited License Key for Vik Booking and Vik Channel Manager, so there are no additional or recurring costs for the Plugins, and the updates are always FREE.
This is what our customers think about us
Finally a Channel Manager fully compatible with Booking.com
I have been using Vik Booking plugin with Vik Channel Manager for my motel with 17 studio's and 3 apartments for one year now. The main reason for going with this plugin was the Channel Manager which allowed me to automatically sync my site with booking.com.
The plugin's functionality is very good at the front-end as well as back-end. The back-end is also easy to use especially useful on my mobile phone to answer availability request and reservations on the fly.
For the price you pay you get top notch support. Over the last year I raised about 14 support tickets. Answers were fast and every time detailed, to the point and helpful to get moving again. In both all my cases support resolved these cases same day.
— Hans, Owner of Marx Motel
I stop warring about maintaining multiple booking calendars.
I own a small B&B and a holiday cottage, and I'm just starting up. My main issues are environmental health, fire regulations, and now worrying about getting customers while the UK is on lockdown.
I didn't ever want to have to worry about maintaining multiple booking calendars over a wide range of different booking systems as well so I'm delighted I chose VikWP.
The support team have answered a lot of what must have been annoying questions from me over the last few months. They helped me to investigate problems and often they went that extra mile to help.
When I look for a plugin, I don't just look for the functionality it provides me. I look for the quality of support that's given too. If your looking for a booking plugin for WP and want to have confidence in the support, then this is the one for you.
— John, Owner of Stay In Kintyre B&B
Get all the benefits of a real channel manager,
get Vik Channel Manager today!
Got any questions?
or check if you can find your answers on our FAQ.