Vik Rent Car
Manage your rentals with a trusted Car Rental plugin for WordPress websites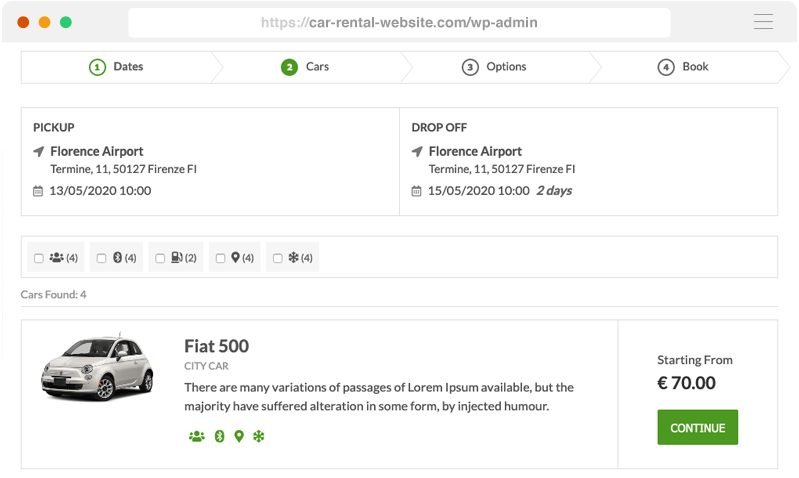 Requirements
WordPress 4+
Cost meant for purchasing one License Key with a validity of 1 year for one website. Renewals are not mandatory, this is not a subscription, but Patches and Updates can only be installed if you have an active License Key for your domain.
Please consult our Terms and Conditions for more details.
Developed for rental agencies
Dashboard with rental summaries for you and your team.
Check your trends with graphs and statistics.
White-label functions and styles to reflect your own company.
Full Control of your business
Easy management of availability and orders for all your locations.
Fully customizable and compatible with any theme for WordPress.
Keep the damages and logs of your vehicles up to date.
A complete and reliable plugin
Designed for large and small companies working on the car rental business.
Configure any type of price, promotions and extra services.
Three payment methods included. Support for over 40 bank gateways.
Some of these well-known brands, among more than 1.400 rental agencies around the world, are using Vik Rent Car.






Management made easy
Complete Pricing System
Configure Daily, Weekly, and Monthly costs, as well as Hourly costs for rentals shorter than 24 hours. Set up seasonal prices, types of insurance and additional charges for extra services.
Options, Extras and Additional Fees
Offer the possibility to book Options or Extra Services. Set up Extra Fees for out of hours pick ups and drop offs, or for certain combinations of Locations. Assign different tax rates to your types of price and override the default rates depending on the Location chosen for Pick-up or Drop-off.
Vehicles described in every detail
Manage your vehicles by using descriptions, categories, options, and photos to build an image gallery. Make your website complete enough for you and your clients!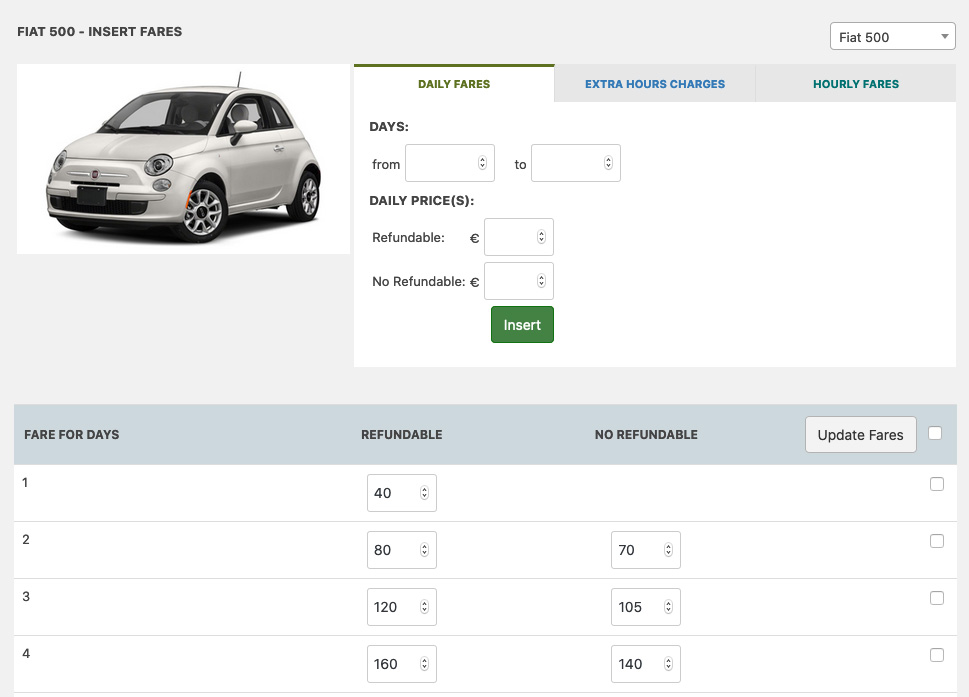 Tailored functions for your car rental website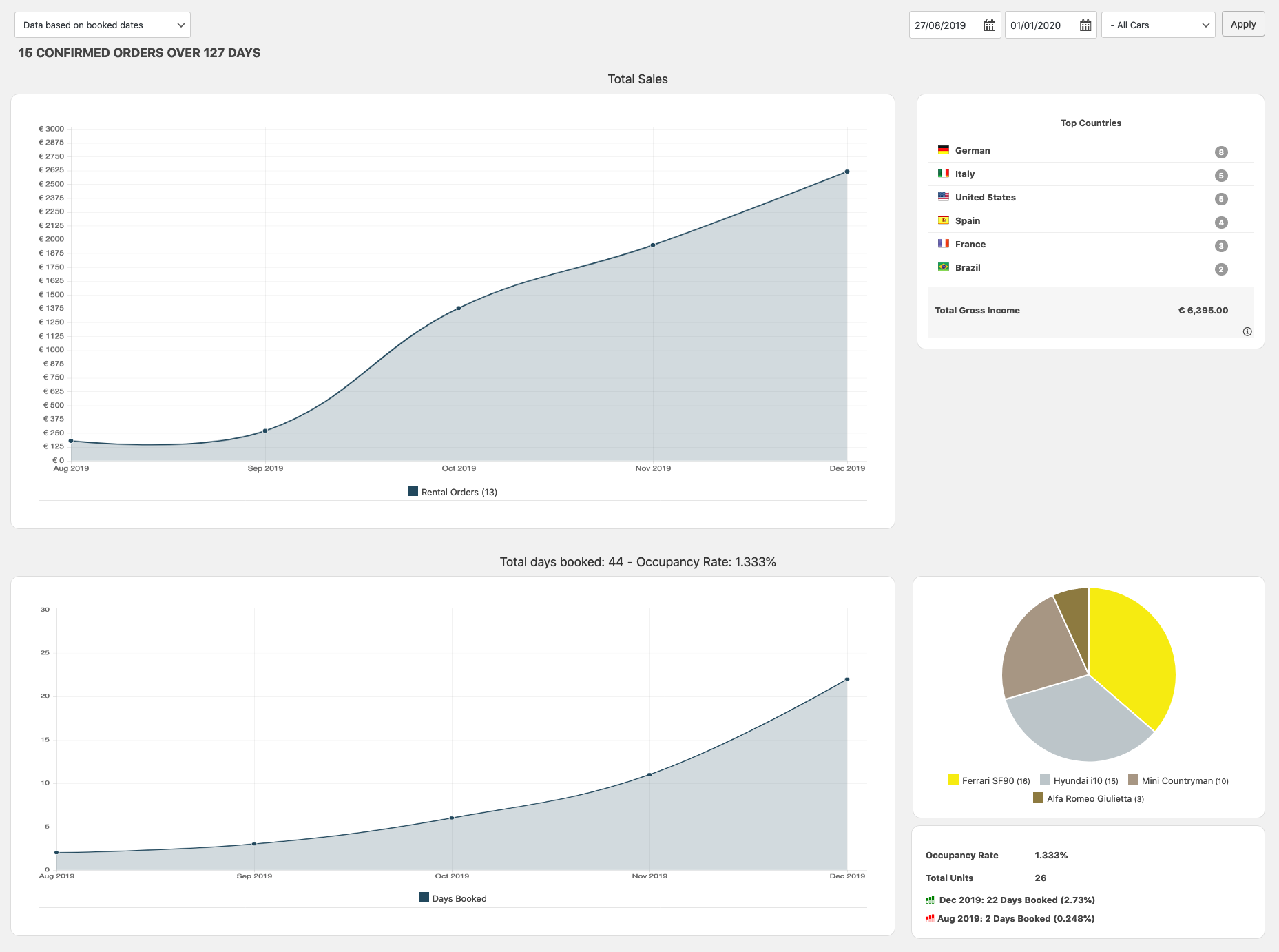 Trends
Summaries of Rental Orders and Daily bookings will help you control your business trends thanks to the Graphs & Report functions.
Different Types of Price/Insurance
Create one or more insurance types for your vehicles, such as Collision Damage Waiver (CDW), Loss Damage Waiver (LDW) etc. and specify the rental costs for every pricing option.
Designed for your website
Rental Orders Overview
Thanks to a dedicated section you can organize and schedule any rental order for your vehicles through overview calendars showing the remaining availability.
Check Availability and Status
Each vehicle will have its own availability calendar showing all the rental orders with their different statuses. Keep them under control from the back-end section of your website.
Multi-language support
Compatible with any WordPress multiple-language plugin such as WMPL. Built-in translation functions for the various contents will help you create a multi-language website for all countries!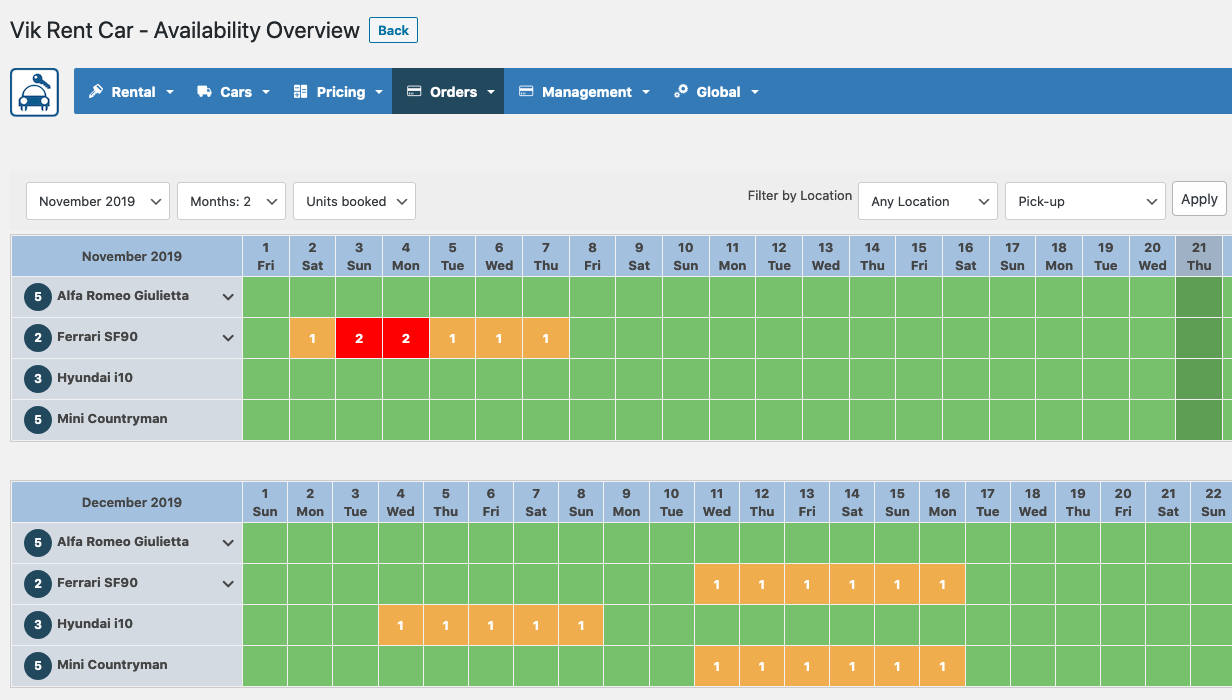 A professional software to have everything under control
A easy tool for your team
Thanks to the dashboard it will be easy for your team to see the customers that are collecting or returning the vehicles today. Always up to date for the upcoming reservations.
Use the theme you love
Vik Rent Car is fully customizable and completely compatible with any theme for WordPress. Fully equipped of Widgets: Search Form, Travel Itinerary, Cars List, Currency Converter.
Vehicles damages and logs with distinctive features
Generate PDF (customizable) documents for your clients with a full report of the vehicle that was hired. Keep the damages and logs up to date for all the units of your vehicles.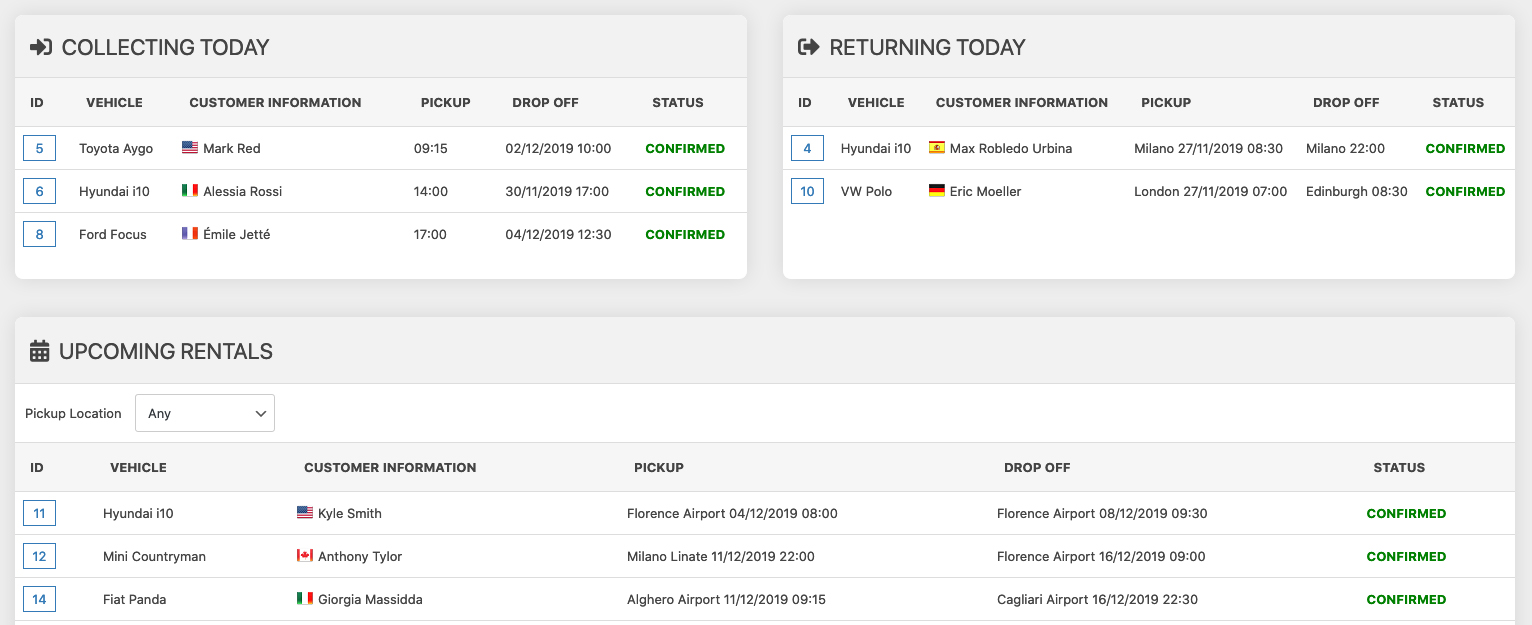 Take a look to other powerful features!
Custom Rates
The flexibility you were looking for configuring the rental costs in the various seasons of the year.
Dedicated Design
A complete and responsive design for your website thanks to different Shortcodes and many useful Widgets.
Multiple locations
Set up various locations available for picking up or returning the vehicles.
Responsive pages for the front-end
Vehicles can be assigned to different categories, groups of cars and locations. Decide to show your locations on Google Maps.
Booking Restrictions and Distinctive Features
Set up your vehicles fleet by describing every single sub-unit. Define restrictions for the rental periods, such as a minimum days of rent.
Extendible Payment Framework
Comes with an integration for Offline Credit Card, Bank Transfer and PayPal. Over 40 credit card payment gateways compatible.
Get Vik Rent Car Today!
The most powerful and complete car rental plugin for WordPress
Do you have any questions?
Check if you can find your answers on our FAQ section. Contact us otherwise.