Management
Statistics Tracking
In the "Management" menu you will find the function "Statistics Tracking".
The function "Statistics Tracking" will calculate the conversion rates, that is the relation between visitors and confirmed reservations. It will track the traffic of Visitors, Customers and the Referrals. A Referral is the web source that brings you visitors on your website.
You will be able to filter the tracking results for a specific range of date, type of date, country and Referrals.

Thanks to this function, you can also create custom tracking campaigns:
Click on the "Tracking Settings" button to specify your tracking parameter.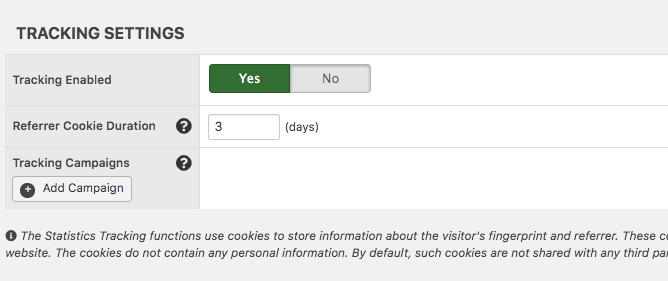 Customers
In this section you can find customers records and their booking history. The required data to save and correctly store a customer record are: First Name, Last Name,  E-mail and Country. Also, from here, you can edit or fill in all the additional guests information to keep them up to date
Invoices
From here you will have access to a panel containing all your booking invoices. You can choose to filter the results for different criteria (i.e. Name, email or Month). Also, you will be able to download the invoices using the apposite button "Download selected invoices".
Scheduled Cron Jobs
From here you can create or manage the already existing Cron Jobs. A Cron Job is a task that should be executed repetitively at regular intervals. It is an action that only your server is capable of scheduling. VikBooking comes with 3 default Cron Jobs Schedulers: Email Reminder, SMS Reminder, Invoices Generator, but you can create as many as you want through this apposite section. For more details on how to schedule and manage Cron Jobs please refer to our guidelines in the Knowledge Base.